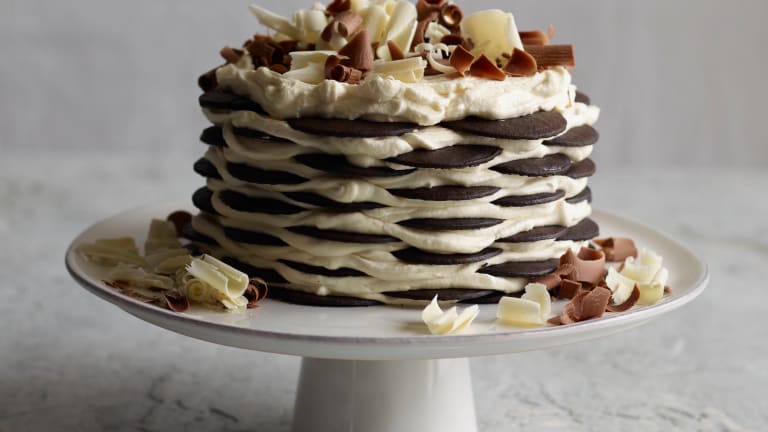 Chocolate Wafer Icebox Cake
The latest installment from "What's Gaby Cooking?"
There's nothing I love more than a no-bake dessert in the summer. It's quick, easy, couldn't be more delicious, and requires ZERO oven time, which is great! This Chocolate Wafer Icebox Cake was on rotation every year growing up—my best friend's mom made it for all her kids' birthdays (and sometimes for me as well, since I always asked so nicely)! Seeing as how June is my birthday month, I thought I'd share the recipe here because hello, who wouldn't want a Chocolate Wafer Icebox Cake with the most gorgeous chocolate and milk chocolate curls on top? Grab some chocolate wafers from the market and go to town! The chocolate wafers called for in this recipe are super thin; much thinner than an Oreo, but you could easily substitute Oreos if you prefer. Just twist apart the Oreo, discard or eat the white layer, and then use the cookies as needed! 

xx - Gaby

Chocolate Wafer Icebox Cake
3 cups heavy cream
3 tablespoons sugar
1 tablespoon vanilla extract
2 (9-ounce) packages chocolate wafer cookies
Chocolate curls for garnish
White chocolate curls for garnish

In a large bowl, beat cream, sugar, and vanilla extract with an electric mixer on high speed until soft peaks form.

On a flat serving plate, arrange 7 cookies in a circle, keeping 1 cookie in the center.

Spread with 1/2 cup whipped cream, making a 7-inch circle. Repeat with remaining cookies and cream, until you have 11 alternating layers of cookies and cream, ending with a layer of cream (there will be a few cookies left over). Cover with plastic wrap and refrigerate for at least 2-3 hours - overnight is preferred.

To serve, top with chocolate curls and slice and serve as needed.