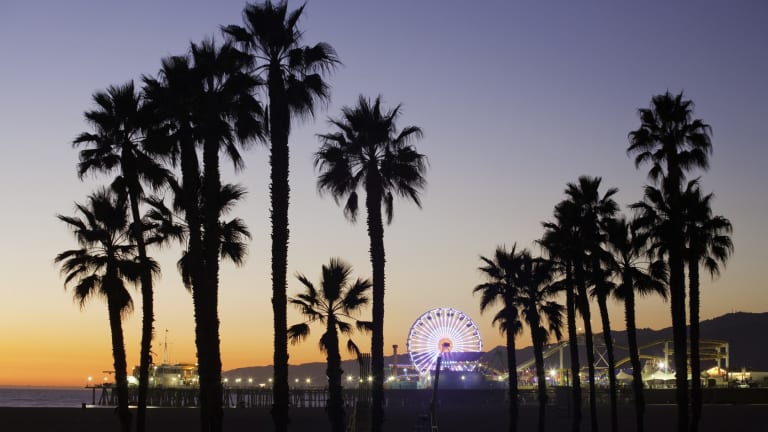 My Updated Guide to LA
Where to eat, drink, stay, and play.
Baldwin Hills Scenic Overlook Stairs – People still head to Santa Monica to walk up and down the famous stairs for a cardio workout, but if you want to avoid the crowds, you should check out the Baldwin Hills Scenic Overlook stairs. They provide an equally strenuous workout with an added bonus of epic views of the entire city.
Aroma Driving Range – If you're a golf aficionado (my parents are maniacal about the sport), you'll love this Koreatown-based driving range. Renovated from an old parking structure, you're smack dab in the middle of one of the most populous areas of the city, stacked on top of other golfers. There's also a spa, gym and juice bar, if you don't feel like swinging some clubs.
Mandeville Canyon Fire Road Hike – A moderate, dog-friendly hike in Brentwood, that's located at the end of an unassuming cul-de-sac. It's not as crowded as Runyon or Griffith Park, but still provides some amazing views of the westside. 
Pilates Platinum – This boutique gym (that has occasional spin classes) has a couple of different locations throughout Los Angeles. The classes are small, with 12 reformers to a room, and because there are so few people per class, the instructor will often help each student. Classes fill up quickly so it's important to make reservations online.
Lake Hollywood Reservoir – Every time I go to Lake Hollywood I kind of forget that I'm in Los Angeles (that is, until the Hollywood sign comes into view). The reservoir is surrounded by a chain link fence, but there's 3.3 miles of paved walkway that surrounds the lake, providing one of the best walking locations in the city.
Knuckle & Claw – The closest thing you can get to an authentic lobster roll, without flying to Maine. The proprietors fly in fresh lobster daily so Silver Lake residents can get the full New England experience.
Marugame Monzo – Watching a noodle master cut udon by hand is almost worth the trip to Little Tokyo alone. They're famous for their uni udon pasta, but I prefer the less rich – but equally delicious – traditional soup version. I usually sit at the bar and get a front row seat to the action.
Carousel – My favorite Middle Eastern food in the city. I could live off their chicken shawarma and fattoush salad and the hefty portions always make for ideal leftovers.
Sugarfish by Sushi Nozawa – My go-to weeknight sushi spot. Their menu is primarily built around different sized omakase meals, but you can always order à la carte. Some of the most accessible and delicious sushi in LA (I have a particular fondness for their slightly warmed rice), with locations throughout the city.
Jitlada – This Thai restaurant is an LA institution. A tiny storefront leads to a large two-room restaurant where they serve some of the spiciest curries I've ever had. Their massive menu is a little daunting, but do not miss the Morning Glory salad with shrimp, their Panang Curry or their Pad See Ew.
Wexler's – This is my favorite pastrami sandwich in the city. Langer's, Greenblatt's and Canter's have been around longer, but Wexler's is simply on another level. They smoke their meat everyday and stack each sandwich with thick cuts of juicy deliciousness. Bonus: it's located in Grand Central Market, across from McConnell's ice cream (order a scoop of their Peppermint Stick).
Terrine – This West Hollywood brasserie has a charcuterie plate that stands out from all others. They also have one of the prettiest outdoor patios that's perfect for a leisurely Sunday brunch.
Sqirl –  This acclaimed breakfast/lunch spot serves up uniquely delicious dishes, from their French toast to multi-layered rice bowls, and of course, I always come home with a new jar of house-made jam. 
Bar Stella – An eastside establishment that looks like you stepped out of Los Angeles and into a 19th century French bistro. Their seasonal drinks are especially great.
Mrs. Fish – This subterranean venue has a speakeasy feel and massive aquarium that runs the length of the ceiling. Check their calendar of events online because they often have fun live music.
Perch – If Mrs. Fish is a little too noisy, head 15 floors up to Perch for beautiful views of downtown Los Angeles. Twinkle lights and olive trees dot their outdoor patio, and it's a quieter place to catch up with friends, while flanked by towering office buildings.
Normandie Club – When you want a dark and intimate vibe with classic cocktails, head to the brand new Normandie Hotel's, Normandie Club where they serve up stiff Old Fashions, Manhattans, and Martinis. Once indoors, you'll forget that you're in the middle of Koreatown's hustle and bustle.
Marvin's – I love Marvin's for their highly curated and accessible Italian and French wine selection, that doesn't feel pretentious. It's a casual brasserie and the owner switches up the wine list up every couple of months to keep things exciting.
The ACE Rooftop – A great spot for out-of-towners needing a more energized drinking environment, the ACE rooftop is a fun, noisy, bar experience. 
Blacktop Coffee – A tiny walk-up shop in the Arts District that serves a great avocado toast. Another must try is the butternut squash toast with crème fraiche – sweet and savory and incredibly satisfying. It's also connected to a great shop,  Alchemy Works, so I'll often wander while waiting for my latte.
Document – Part coffee shop, part gallery, I come here when I want a really great cold brew. They have a slow drip contraption that is the size of a small child, and I'm convinced it's part of the magic. They also include a shot of maple syrup that cuts any bitterness or acidity.
Go Get 'Em Tiger– They're famous for their macadamia milk and European-style stand up bar, but I love GGET because it's my neighborhood spot. They also have a fantastic breakfast and lunch menu, which includes my favorite light-as-air waffle in the city.
Alfred Coffee – A great stop after shopping on Melrose Place, they offer a variety of drinks, which includes a macchiato served in a chocolate dipped ice cream cone. I have yet to order one, but it's fun to know that I have the option.
Downtown (Arts District)
There's been a huge renaissance over the past few years in this area of downtown, where artists have lived and worked in warehouse spaces for decades. Now, some great independent boutiques have moved in, including bedding brand Matteo and one of G's favorite menswear spots, Apolis.
Downtown (Arts District): Matteo, Poketo, Apolis, Alchemy Works, 12345 Clothing
Silver Lake (Sunset Junction)
This stretch of Sunset Boulevard is lined with shops that appeal to many tastes including stores like Bar Keeper for your speciality liquor needs, clutches from French designer Clare Vivier, and my favorite, Wary Meyer grapefruit soap at Dream Collective.
Sunset Junction Shopping: Mohawk General Store, Reform School, Bar Keeper, Clare V., Dream Collective
Venice (Lincoln Boulevard)
Abbot Kinney definitely deserves its praise as one of the coolest blocks in the nation, but a few streets over on Lincoln Boulevard, there are some great spots worth visiting. My favorite is General Store, where you'll find pretty, hand-made ceramics from local artisans like Ben Medansky.
Lincoln Blvd. Shopping: General Store, Fire and Creme, Tradesmen, H. Bleu
Malibu Country Mart
Skip the Santa Monica Promenade and drive about thirty minutes north to the Malibu Country Mart. The outdoor space has a great mix of local and designer boutiques, all nestled across from the Pacific Ocean.
Malibu Country Mart Shopping: Canvas, James Perse, Cusp, Oliver Peoples, Calypso
Melrose Place
For times when a splurge is in order, forget Rodeo Drive and head to this street in the middle of West Hollywood. It's also one of the prettiest blocks in LA.  
Melrose Place Shopping: Isabel Marant, The Row, Scout, Violet Grey, Creatures of Comfort
STRIIIKE – The three Striecher sisters, who are experts in different segments of beauty, have banded together to open a one-stop shop for brows, makeup, and hair. It's the ideal place to head before a big event.
Beauty Bungalows – A multi-level structure in Venice that houses small businesses like Kelley Baker brows and Lavish Tan. I can jump between shops and get all my beauty-related errands done in one place.
Chocolate Sun – I usually rely on my Tan Towels, but if I have something major (like my wedding), I go straight to Chocolate Sun. They have an organic formula that doesn't leave a spray tan scent and a glow that lasts for up to a week.
Stark – This Silver Lake waxing salon is clean and fast, and they even have a little shop where they sell gifts and cards, so I don't mind if I arrive early and have to wait.
Luxe Nail Boutique – I've become pretty good at giving myself an at-home manicure, but this is a fun place to come with a group of girlfriends. I usually choose the Le Gel, and pay a little extra to have the professional mani/pedi last me an extra week.
The Museum of Jurassic Technology – This unique space doesn't really have a theme, but their philosophical exhibitions, bizarre art, and oddities are a great way to spend an extra hour or two. The museum tour ends on their rooftop where you can opt-in for high tea. It's a fun, unstuffy addition to Los Angeles' museum scene.
MOCA – LA's answer to MOMA, and located in the middle of downtown. You can see the massive Disney Concert Hall from the entrance and hear Colburn School's music students practicing next door. It's a great place to visit on weekends when the rest of downtown has shut down and is blessedly quiet.
Paddle Boats in Echo Park – Echo Park Lake was closed for a long time in order to be drained, but reopened last year and their famous paddle boats are back in commission. There's nothing quite as nice as a sunny day spent on a lake.
Venice Canals – The Venice boardwalk is a must-see for any first time visitor, but once you're done there, walk a few blocks over to the Venice Canals. It's a winding neighborhood of charming homes that are all connected by a labyrinth of canals. It's one of my favorite places to walk around after lunch on Abbot Kinney.
Stahl House in Hollywood – An iconic mid-century home with a stunning hilltop view, this is a must-visit for architecture and history buffs. Check the website for tickets, they do tours and showings about two days a week.
The Echoplex – An intimate, standing-room-only venue that hosts some of the liveliest concerts around. They also host a dance party called Bootie LA where DJs perform themed mash-ups.
Troubadour – The Troubadour in West Hollywood is an LA institution where the likes of Joni Mitchell, Bob Dylan and James Taylor performed as relative unknowns. They still feature a ton of established and emerging talent and is one of the best live venues in the city.
The Wiltern – On the corner of Wilshire and Western, this beautiful theater hosts everyone from comedians to bands in its two-tiered space. There's room to dance on the first level, or you can buy Mezzanine seats to watch the show from the balcony.
Bardot – Our local NPR news station KCRW has an amazing music program called School Nights. Through it I've discovered great new bands and am planning a trip to see the live version of the show soon.
Blue Whale – In a nondescript strip mall in Little Tokyo, Blue Whale hosts some of the best young jazz musicians the city has to offer. It's tiny and intimate and it's clear that everyone there loves music.
The Glass House – This indie venue is about 25 miles east of Los Angeles, but it's worth a mention. They showcase a great roster of independent musicians in their fairly large venue. Perks include free parking.
The Rose Hotel – Venice – If you want to feel like you're staying at a cool friend's beach house, this place is the spot. They serve Blue Bottle Coffee and Moon Juice, and have both a resident activities person to take you surfing and a Japanese masseuse. It's the ultimate California experience.
Hotel Covell - Los Feliz - A tiny apartment-like hotel situated above a wine bar in Los Feliz, Hotel Covell is a boutique bed and breakfast with no concierge or lobby. What it lacks in traditional services it makes up for creating an environment that feels like you've arrived at home upon arrival.
The Line Hotel – Koreatown – Celebrity chef Roy Choi opened two restaurants in this renovated 1960s hotel. The walls are concrete and the furnishings bare, but I love getting drinks in their greenhouse-like restaurant, Commissary, and then finishing off with a cheese and guava roll from their downstairs café.
Hotel Fig - Downtown LA – Hotel Fig looks like a riad, dropped into the middle of downtown. Moroccan tile covers the ground, intricate lanterns stipple the ceilings, and the pool feels like I've landed in Marrakesh.
Palihouse Holloway Hotel – West Hollywood – A masculine, industrial backdrop that offers all the amenities of a big luxury hotel in an intimate boutique setting. This hotel is ideally located in West Hollywood, close to some of the best nightlife and restaurants the city has to offer.