As a team, we represent a variety of cooking abilities—Geoffrey has attended rigorous cooking classes and frequently makes meals at home with Emily, who's an amazing baker, Leslie has worked as a food writer and recipe tester, and Alina is relatively new to cooking, but willing to try just about anything. The one thing we have in common is that we all love food, so often, the first question we greet each other with in the morning is, "What did you make for dinner?" Since we swap recipes so frequently among our team (there was a major Ma-Po Tofu phase last week, for example), we thought it would be fun to share with you the actual weeknight dishes we make most frequently at home. Each dish varies slightly in level, but most take under ten minutes to make or require minimal active time. Here are the easy weeknight dinners we rely on: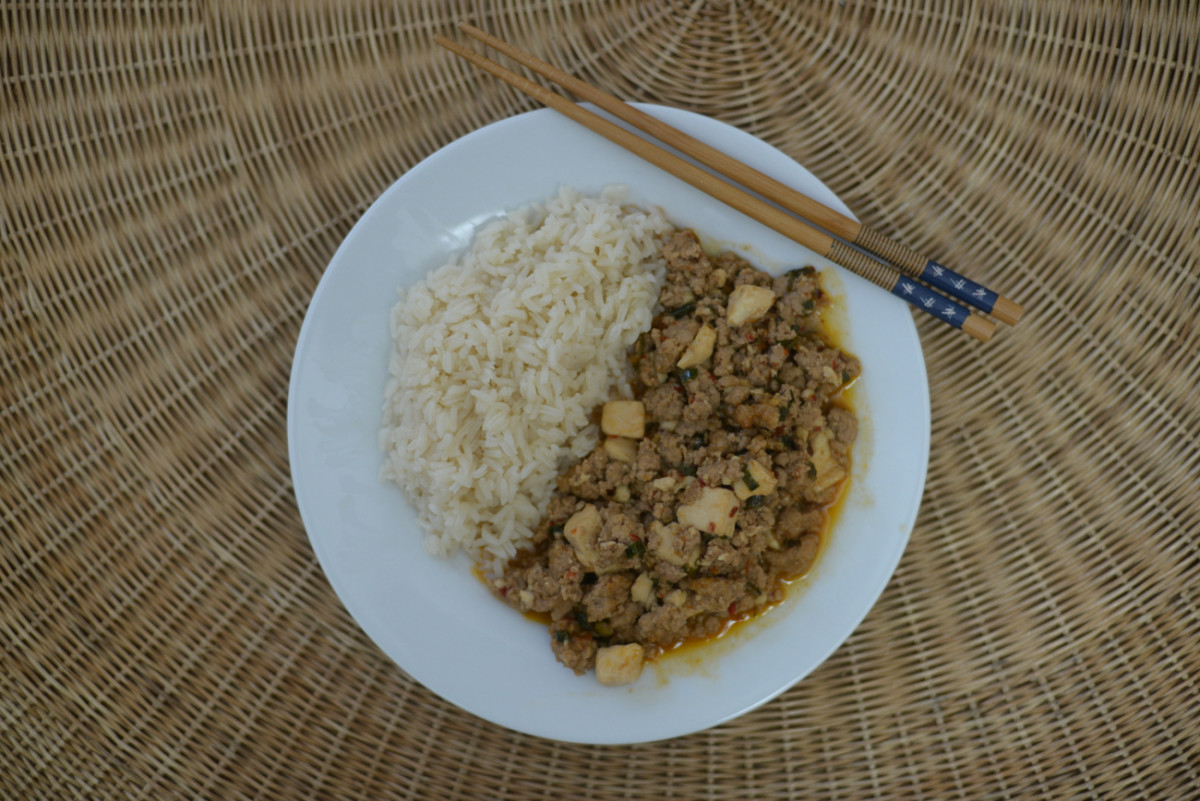 This variation on the classic Sichuan dish, which was featured in the New York Times a while ago, remains a standard in our house. The spicy mixture of pork and tofu are the perfect topping for a bowl of jasmine rice and the simplicity of this version makes it a great option if you don't have a lot of time to spend in the kitchen.

My tips: 
- Stir in 1-2 tablespoons of chili garlic sauce as a finishing touch. The balance of heat and slightly sweet chilis add a deeper layer of richness.

- Grind pink peppercorns over the dish before serving. They add a nice aromatic kick, which calms down once you take your first bite.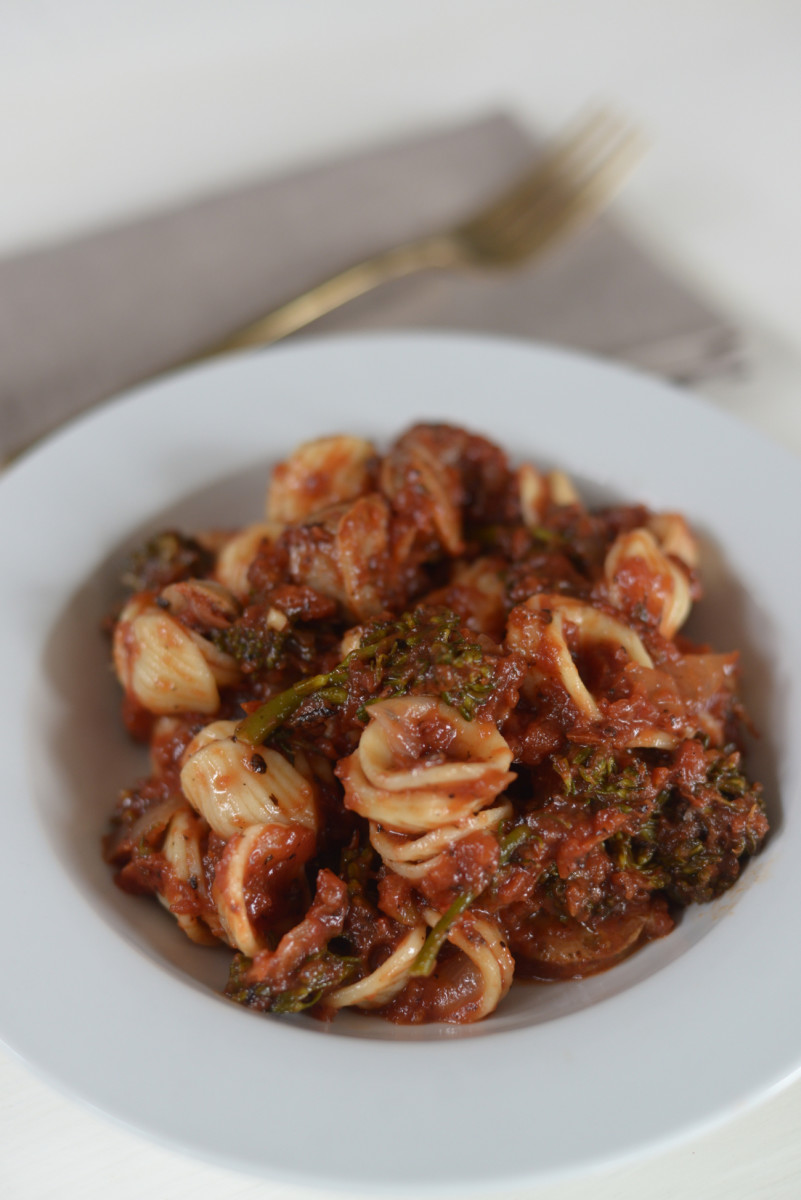 The first time we had this dish was at Babbo in New York and while we've never been able to perfectly replicate that experience at home, this is one of those dishes that is always a crowd pleaser. If you don't eat meat, simply skip the sausage, since the hearty combo of broccolini and orecchiette pasta is satisfying on it's own. We usually top it with a basic tomato sauce.
My tips:

- I've been substituting regular crushed tomatoes with fire roasted crushed tomatoes. The slight charring on the fire roasted version adds a nice richness to the sauce.

- We usually use a spicy chicken Italian sausage, rather than a sweet pork sausage. The heat and slightly leaner meat is a good counterbalance to the richness of the overall dish.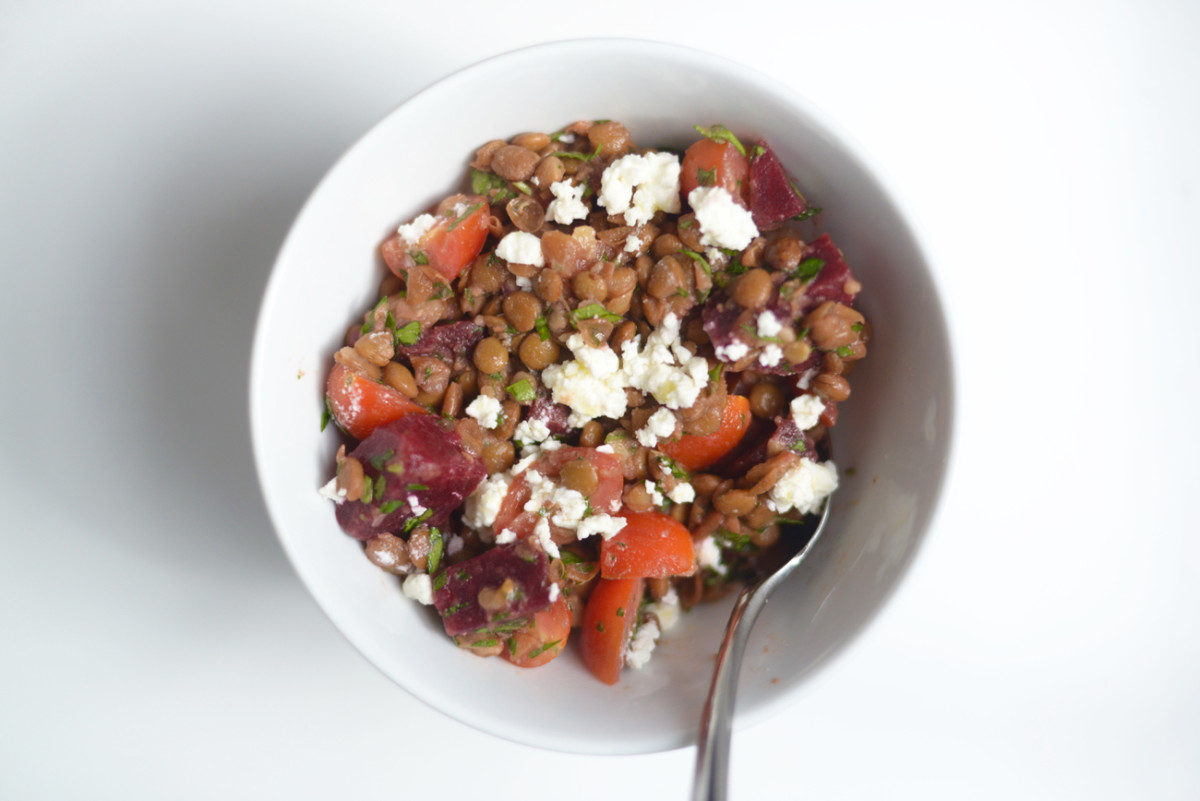 This no-cook recipe is one of the simplest, healthiest, and least expensive dishes you can make. If you have a can opener, a knife and a large bowl, you're already halfway done. All of the ingredients are available at most markets, but we pick everything up at Trader Joes:

Ingredients: 

2 cans of cooked lentils
1 pack of cooked, whole beets
2 packs of cherry tomatoes
1 bundle of Italian parsley
Feta cheese
Olive oil
Red wine vinegar
Salt and pepper

How to make it: Strain and rinse the lentils, add to a large bowl. Chop the beets and tomatoes into bite sized pieces, finely chop the parsley, crumble the feta and add everything to the bowl of lentils. Make a basic vinaigrette by drizzling 3/4 cup of oil and 1/4 cup red wine vinegar on top of the salad. Toss to mix and season with salt and pepper to taste. You can eat it right away or put it in the fridge for 30-45 minutes to allow the flavors to combine.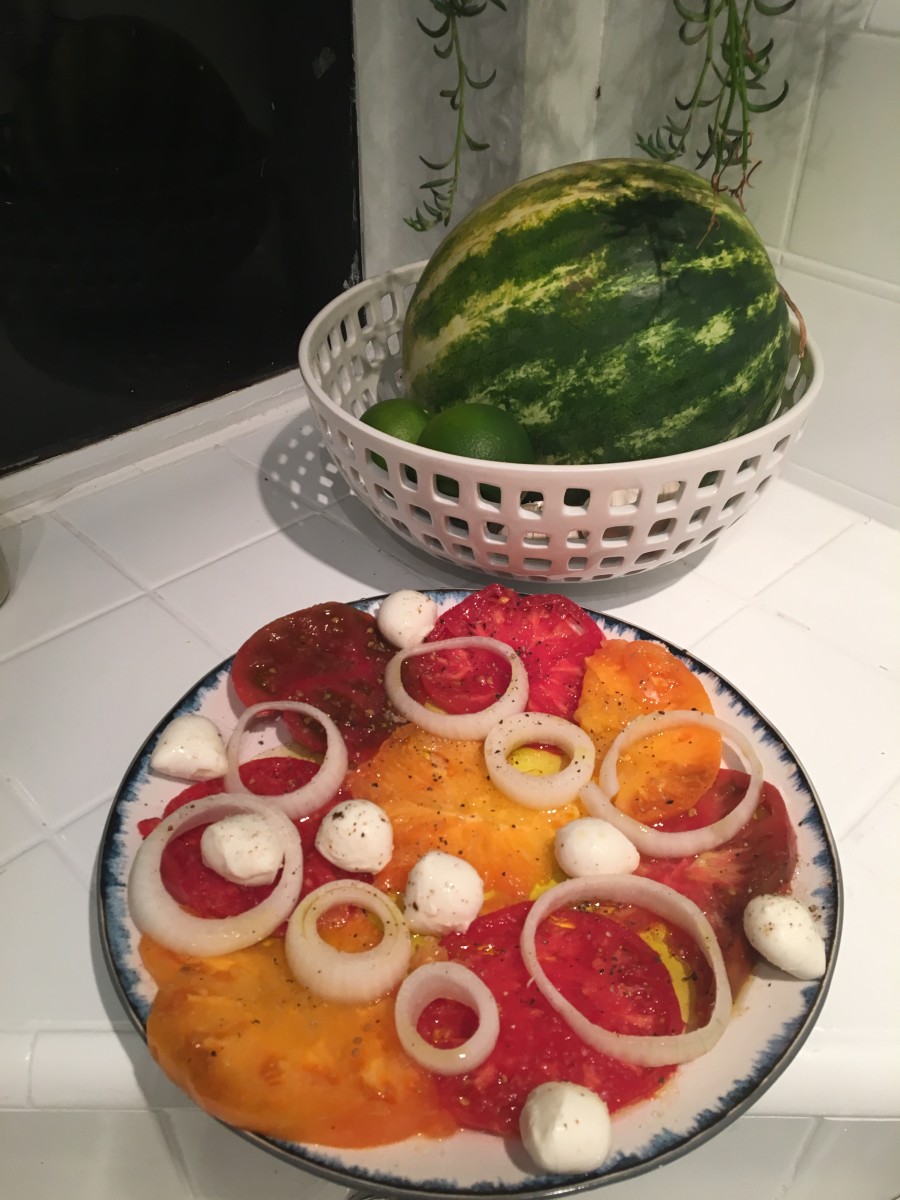 I'm starting out with the easiest in the mix: a no-cook heirloom tomato salad. Tomatoes are one thing I get every week at the farmers' market—you really can't compare grocery store tomatoes to the fat, juicy, farm-fresh heirloom tomatoes you get at the market. This is pretty much as easy as it gets and is surprisingly filling. I'm normally a carbs-at-every-meal kind of girl, but even without bread, this plate fills me up. You literally just slice them up with some onion, sprinkle mozzarella balls in spare spots on the plate, drizzle with olive oil, and season with salt and fresh-cracked pepper. Add a glass of wine on the side (to drink, not for the salad), and enjoy. 
Ingredients:

3 heirloom tomatoes - preferably one orange, one red, and one yellow, just for a more colorful and beautiful presentation 
Mozzarella balls 
Red or White Onion (doesn't matter, equally delicious) 
Olive oil
Salt and pepper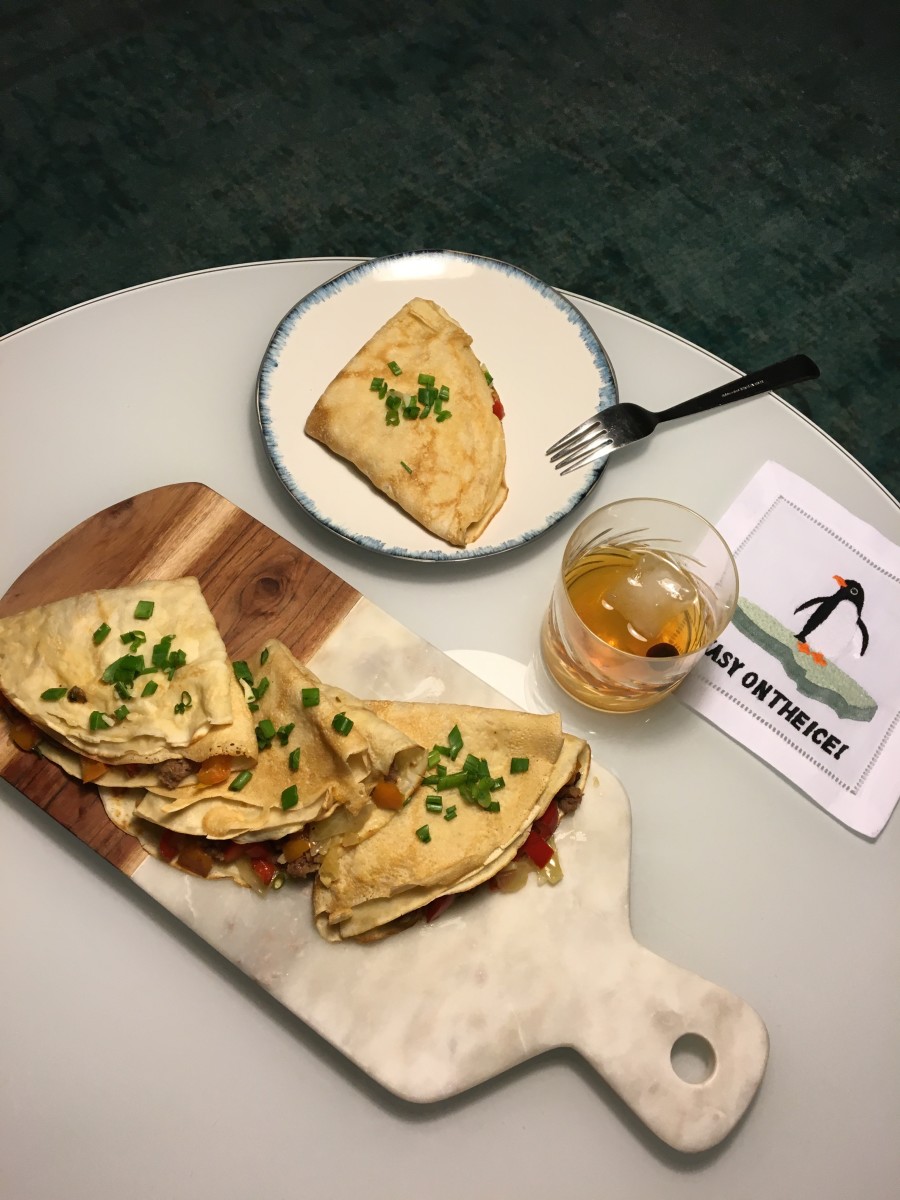 Crepes are as easy to make as pancakes (they're the basically the same thing and made of the same ingredients—flour, milk, water, and eggs), and insanely delicious.
Crepe Ingredients (yields 10 crepes, which you can reheat for following weeknight dinners, or use for breakfast the next morning!):
2 cups flour
2 eggs
1 1/2 cups milk 
1/2 cup water
1/4 teaspoon baking soda
1/4 teaspoon salt 
How to make the crepes: Combine all of the ingredients in a large bowl and mix. Similar to pancakes, crepe-making isn't an exact science. The consistency of the batter is something you'll master the more you make them, but you want the mixture to be more on the watery side—so if the batter appears a little thick, just add some more milk. The thickness of your crepe is a matter of preference though, and the thinner the crepe batter, the thinner the crepe (which in my opinion is better for savory crepes so you can really taste the filling). Pre-heat a well-buttered 6-8 inch skillet on medium high, spoon in a ladle-full of batter, and lift and tilt the skillet to spread the batter evenly. Leave it on the pan for about 20 seconds (or until the bottom is lightly browned and bubbles begin to form), flip, then repeat on the other side. Put each crepe on a plate as it's finished, and top it with another plate while you make the filling to keep them warm. 

Filling: The filling of your crepe can be adjusted to accommodate every nutritional idiosyncrasy in the book. Sliced ham, gruyere, and chives; spinach, bacon or ham, mushrooms and goat cheese—whatever you have on hand. My personal favorite is the following: sautéed pork sausage, caramelized onions, sliced green onions, and sautéed red/orange peppers (as pictured above!)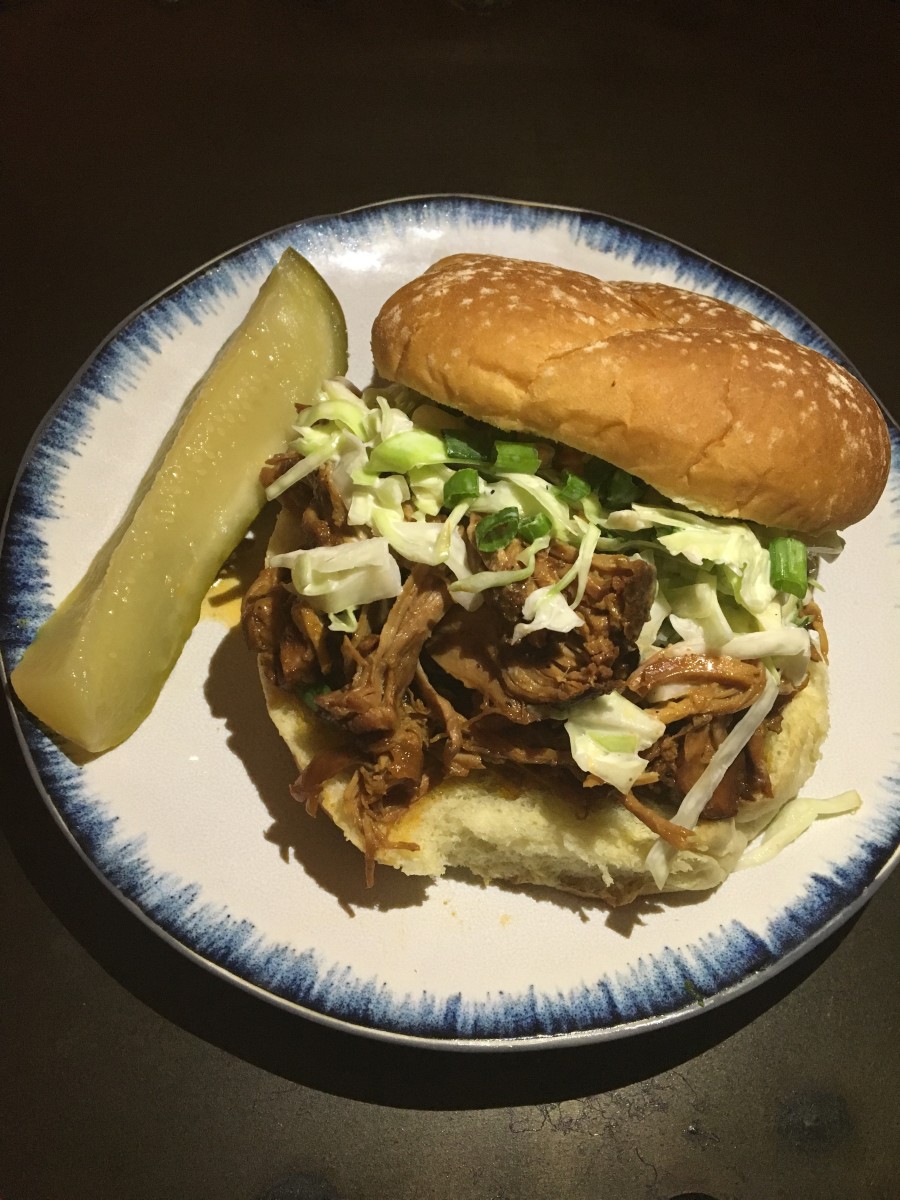 I used to be the kind of person who shied away from slow-cook meals despite how easy everyone swore they were. Though the end result is insanely delicious and hard to believe you made yourself, this meal really is as easy and passive as it gets. You season the pork in the morning, put it in the slow cooker, and let the magic happen while you're at work. Then when you get home, you've got pork so tender it literally melts off the bone. It's up to you whether you want to make homemade cole slaw, but it's as straightforward as shredding a head of cabbage and carrot and marinating them in mayonnaise and vinegar—but of course you can always use store-bought as a shortcut. 
Ingredients:

3 to 4 pounds pork shoulder
Chile powder
2 teaspoons thyme
Ground black pepper
Garlic powder
Salt
Brown sugar
1 large onion
1 glove garlic
1/4 can dark beer (about 3 ounces)
BBQ Sauce (I use Sweet Baby Ray's)
Potato buns
Coleslaw 

How to make it: Start by dry-rubbing the pork shoulder with the chile powder, thyme, pepper, garlic powder, several pinches of salt, and brown sugar. Chop the onion and garlic and place on the bottom of your crock pot. Turn on the crock pot to low. Place the pork shoulder in the center of the crock pot. Pour in the beer and generously cover the meat in BBQ sauce. Cover and cook unsupervised for 8-10 hours depending on your work schedule. When you get home, remove then shred the pork (it will be so tender that it will melt off the bone), smother in some more BBQ sauce and serve on a toasted and lightly buttered potato bun topped with cole slaw. Pickle optional.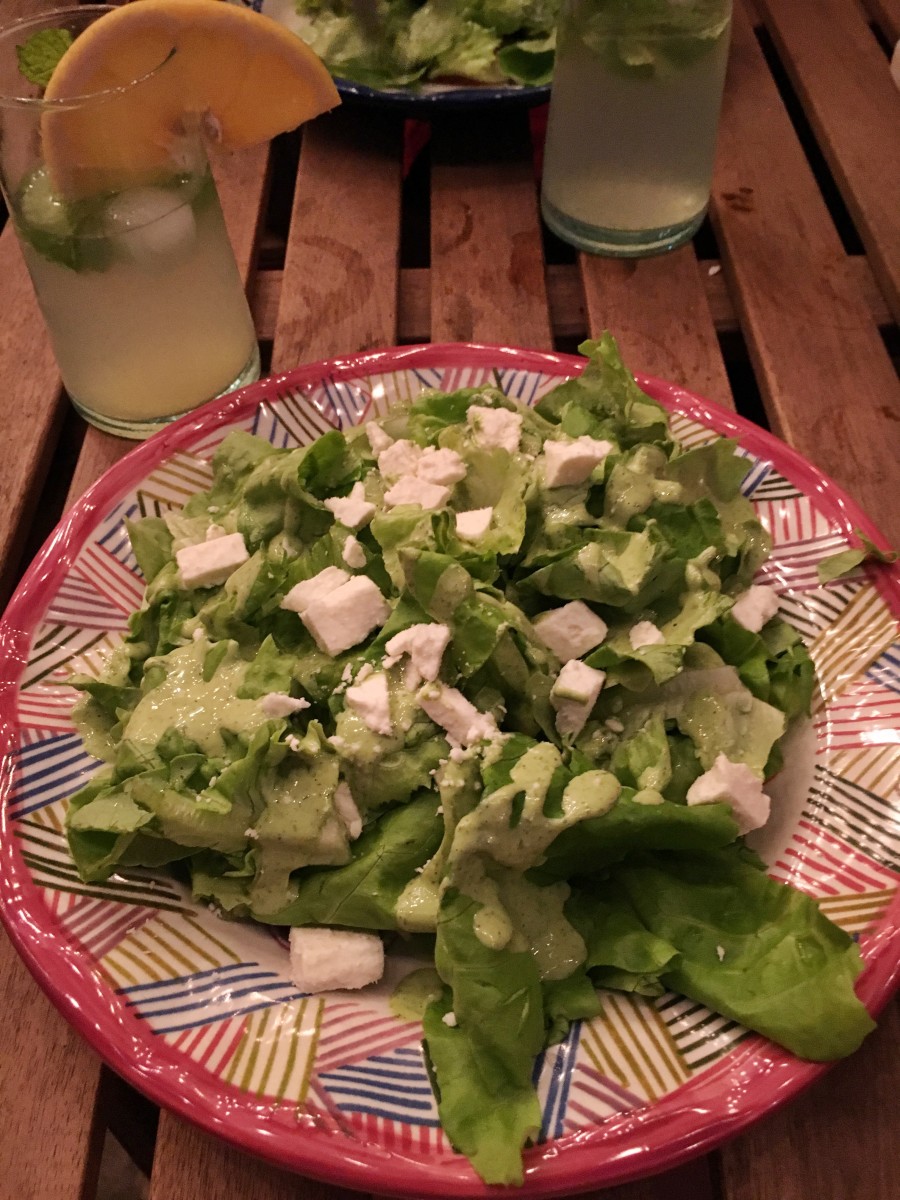 Before Cupcakes and Cashmere, I worked as an editor at a food website, where my job included reading through and editing hundreds of recipes every month, so it took something special to catch my eye. One of my (still) favorite columns at the time was Genius Recipes, written by the site's Editorial Director and all-around fantastic human, Kristen Miglore. In it, she includes recipes from a variety of chefs that have at least one tip that will "change the way you cook." This simple dill dressing, which has become my go-to dressing is "genius" because it's creamy, but has no milk products in it. Instead, you blend a soft-boiled egg into it which magically transforms the concoction into the rich, creamy, dill-laden beauty that you see above. Any time I'm craving a light dinner or a veggie fix, this is what I throw together.

How to make it: In a food processor or blender (I've successfully used both), blend together a soft-boiled egg, a large handful of dill fronds, a dollop of Dijon, and 3 tablespoons of Champagne vinegar, until smooth. With the blade running, gradually add in 1/2 cup of olive oil until emulsified (you can also use 1/2 cup of canola or any neutral oil, but I prefer the taste of olive oil). Season and serve over whatever lettuce you prefer—I usually opt for butter lettuce, with feta on top if I have it in the fridge! (See the full, original recipe here.)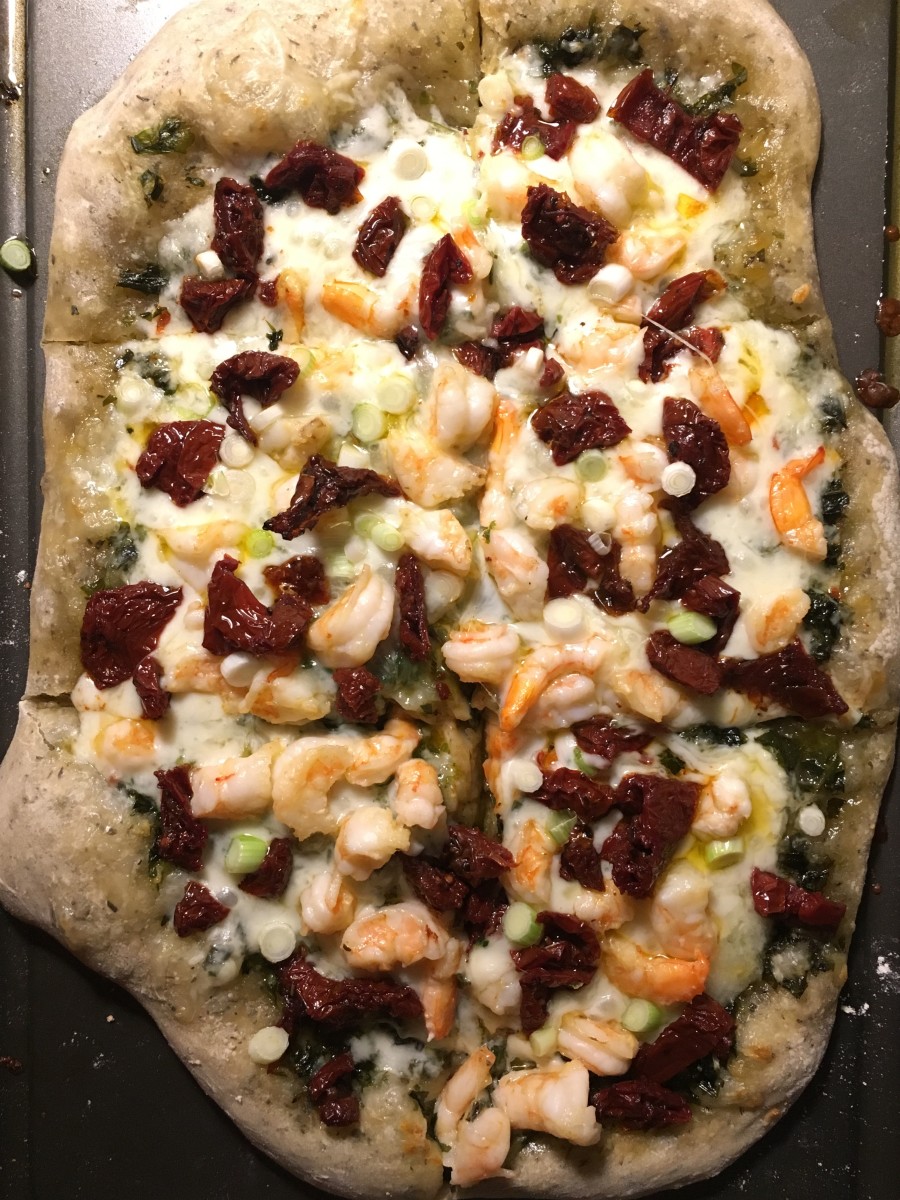 This is one of several recipes my mom, who's an insanely talented cook, slipped into my luggage before I left for college—eating it always reminds me of summers at home (where I was raised on a steady diet of roast chicken and every imaginable form of gluten). I frequently make it when I have friends over because it's a crowd-pleaser and takes about 10 minutes if you already have the sauce made.
How to make it: In a food processor, blend together 1 cup of olive oil, 3 cloves of garlic (plus one for good luck), red chile flakes to taste, 1/2 cup of fresh basil, and 1/2 cup of Italian parsley (the ends are fine to include, but get mostly leaves in there!). The recipe only requires a few spoonfuls of garlic sauce, so I often make a double-batch of it, then keep the rest in my freezer for last-minute pizza nights. Roll out whatever pizza dough you're using (this is a great homemade dough, but takes the "easy" out of this recipe, so I usually opt for this $1 one) into a roughly 9-inch circle, then add several spoonfuls of the garlic sauce so that it evenly covers the dough without skimping. Evenly spread a cup of mozzarella cheese and 1/2 cup chopped of leeks on top, then bake on a sheet tray at 450° F for 5 to 7 minutes. Remove it from the oven and place a 1/4 cup of julienned sun-dried tomatoes and 10 shelled and barely-sautéed jumbo shrimp on top, and cook for 2 additional minutes. Serve hot! (The recipe is available in a traditional form here, but my mom and I lost the source a long time ago—if anyone knows where it's originally from, I'd love to know!)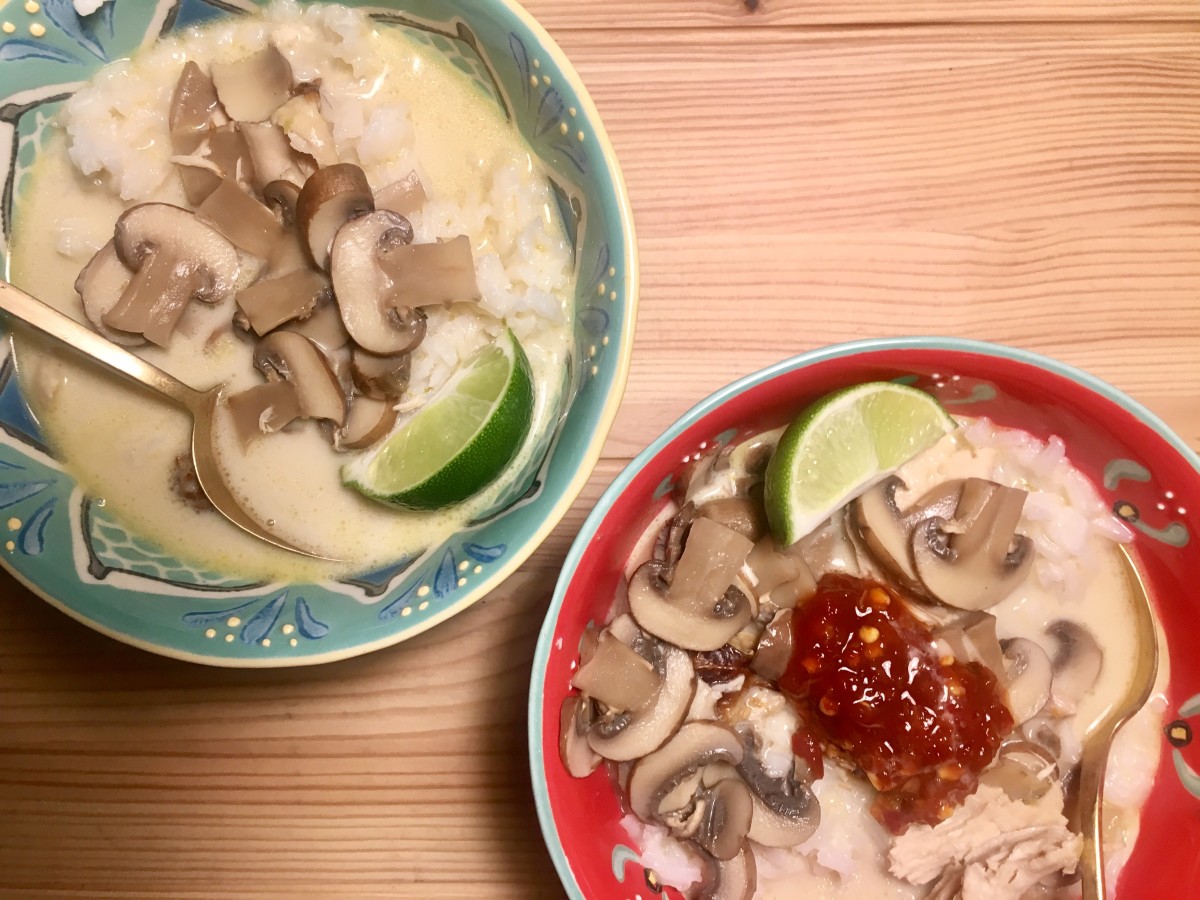 Thai food is one of my favorite types of cuisine and Tom Kha Gai, or chicken-coconut soup, is among my favorite Thai dishes. It wasn't until last year though, after ordering it countless times, that I realized how simple it is to make (which is the last thing I'd expect from any Thai dish, since the ingredient list alone usually sends me running). When I make it, I usually double the recipe and make a huge pot of rice to go with it. I'll then stick the entire pot of soup in my fridge, then place it directly on top of my stove whenever I want a serving, since I don't own a microwave, which makes it a gift to busy weeks. (Note: I have no idea if this is technically "food safe" so I can't officially condone the fridge-to-stove-to-fridge method...)
How to make it: In a large pot, bring two 400-milliliter cans of coconut milk to a boil. Reduce to a simmer and add 2 to 4 stalks of fresh lemon grass, a knob of ginger, and the zest of two limes (most recipes call for keffir lime leaves, but I usually have trouble finding these and have found that lime zest is a similar alternative). Allow to simmer for 10 minutes (the key to this recipe is patience, but it hardly involves any active time). Bring back to a boil and add 1 1/2 pounds of raw chicken breast, cut into bite-sized pieces, and cook until the chicken turns white, then add in 6 cups of chicken broth (you can add up to 12, but I prefer the coconut flavor to shine through). Bring back to a simmer, then add in 2 cups of mushrooms (I prefer oyster but they can be pricier so I often opt for white button mushrooms) and a medium tomato, cut into chunks. You can add pretty much any vegetables you want at this point—onions and string beans are also delicious. Add in about 4 tablespoons of fish sauce (I love the stuff, so I often add even more), the juice from the zested limes, and 2 teaspoons of sugar, then allow to simmer for another 10 minutes. Serve over rice with fresh cilantro on top, and add soy sauce and chile oil to taste. (This recipe is my own, but it has been adapted from this and this recipe, among others.)
P.S., Let us know when you make these recipes! Tag us in your social posts or tell us about it in the comments below—we'd love to see them!